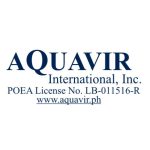 Aquavir International
POEA License:
POEA-004-LB-011516-R
License Validity:
January 4, 2024
About the Company
Aquavir International with POEA License 004-LB-011516-R, our company is fully authorized to engage in the recruiting and placement of workers for a charge by the Philippine Overseas Employment Administration (P.O.E.A.), the Philippine government's regulatory body.
In order to assist you in your business's search for professionals, managers, and executives as well as other skilled workers, our organization can locate your needs for possible individuals, perform screening interviews, and prepare paperwork required in the Philippine side. We also collaborated with Public Employment Service Offices in various local governments to help us find qualified applicants across the country.
Aquavir International will carry out on your behalf all necessary tasks for the prompt dispatch of the chosen individuals, including coordinating with the Philippine Overseas Employment Administration (POEA), the organization in charge of overseeing foreign employment agencies and contract foreign employees.
Additionally, we participate in the fully accredited Student Internship Abroad Program (SIAP) of the Commission on Higher Education (CHED) for the practicum training of genuine Filipino students outside of the Philippines. For the following courses: BS in Hotel and Restaurant Management, BS Tourism, and BS Engineering, we currently have partnerships with Philippine Higher Education Institutions for internship programs.
In the fields of information and communications technology, hospitality, entertainment, retail, trade, and merchandising, engineering, construction, and medical and allied health, including Student Internship Abroad Program (SIAP) and HOUSEHOLD WORKERS, we provide our services in the selection and hiring of highly qualified and skilled Filipino workers.
The majority of the word-of-mouth referrals from our loyal customers and staff have increased our business. We are only sold by our customer service and commitment to finishing the project, even with good client and employee referrals.
Visit official website: click here