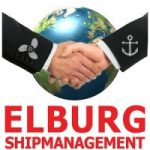 Elburg Shipmanagement Phils, Inc.
License Validity:
April 6, 2025
About the Company
Elburg Shipmanagement Phils offer crewing and ship management services on a global scale.
In order to provide the finest service possible, Elburg combines its expertise, commitment to quality, and ongoing search for improvement with the willingness to meet the many demands and needs of its clients while adhering to regulatory regulations.
Elburg Shipmanagement Phils is a Philippine company based in Makati City, and we currently supply Filipino officers and crew to significant shipping corporations all over the world. The International Maritime Organization (IMO), Standards of Training, Certification and Watchkeeping (STCW), and other international laws and regulations are complied with by our sailors who have received the appropriate training and certification.
Elburg Shipmanagement is also certified by the Philippine Overseas Employment Agency as a Recruitment and Service Provider complying with the criteria of the Maritime Labour Convention 2006 and accredited by RINA For the Quality System: ISO 9001: 2015.
VISION
By 2022, to be fully acknowledged as one of the Top Manning Agencies in the Philippines and a highly responsible ship management organization.
MISSION
To deliver top-notch ship management and highly qualified seafarers while fostering enduring connections with our principals and crew.
CORE VALUES
For the sake of client satisfaction and the development of enduring partnerships, we are dedicated to ensuring that the values we established are carefully protected:
INTEGRITY
TEAM WORK
PROFESSIONAL
PROACTIVE
INNOVATIVE
EXCELLENCE
QUALITY POLICY
The mission of Elburg Shipmanagement Phils, INC. is to continuously enhance our Quality Management System by providing superior customer service, according to all applicable national and international legislation, as well as our principals' and interested parties' expectations.
Visit official website: click here