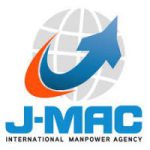 J-Mac International Manpower Agency
License Validity:
May 16, 2026
About the Company
J-MAC INTERNATIONAL MANPOWER AGENCY is specialized employment agency based in the Philippines, duly accredited by the Philippine Overseas Employment Administration (POEA) as well as the relevant Government sectors that administer the Manpower Recruitment Industry.
Our company is being managed by Japanese‐Filipinos, who are very familiar and highly‐experienced in different market. Owning to our specialized and strict, strict, diligent and responsible working attitude, as well as highly effectiveteamwork spirit, past experience, and our well‐organized recruitment process, we are confident to supply the qualified workers such as Professionals, Skilled and Domestic Service workers. We do the efficient and effective screening to check the workers working capability in difference culture and utilized their ability to sustain the demands of respective employers and most of all to uphold the credibility of the company.
J-MAC maintains personnel who are highly experienced in administering the processing and recruitment activities. We do the efficient and responsive way of communication