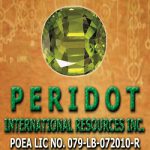 Peridot International Resources, Inc.
License Validity:
August 10, 2022
About the Company
Peridot International Resources, Inc. was established on August 10, 2000. It is registered with the Securities and Exchange Commission (SEC) and is duly licensed by the Philippine Overseas Employment Administration (POEA) of the Department of Labor and Employment (DOLE). It is 100% Filipino owned and controlled. Its owners consist of entrepreneurs and professionals who, collectively represents many man-years of experiences in business, government and community service.
Peridot International Resources, Inc. consider itself as partner of government in development. As a Filipino corporation, it is committed to uphold the dignity, welfare and safety of the Filipinos who seek gainful and meaningful employment overseas. It abides by the rules prescribed by the government for companies engaged in the export of manpower and commits to operate according to those rules as well as those governing business corporations in the country.
PERIDOT recognizes that it can achieve its developmental goals and enterprise objectives if it consistently provides its principals with the highest quality of services and most qualified staff/workers, musicians and entertainers, as they may require towards this end , PERIDOT shall seek continuously improve its operational capabilities so that it may serve its foreign principals well.
PERIDOT  believes that Filipino workers, musicians, entertainers compared favorably with the best and the brightest workers that other countries can offer in the international job market, given the right opportunities, to the credit of their country, their countrymen and their families. PERIDOT therefore commits to negotiate and secure the best possible employment terms and conditions, consistent with their qualifications and aspirations.