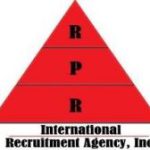 RPR International Recruitment Agency, Inc.
License Validity:
May 2, 2024
About the Company
RPR International Recruitment Agency Inc. was established with specific focus on Employee-Employer requirements. Since our inception, we have successfully built-up a group of competent recruitment professionals to become part of our valuable workforce for continuing growth and success.
We have customer-focused recruitment consultants and specialists that are highly skilled and trained including experienced job evaluators and support staff in our recruitment and placement services.
Our Clients
Al Essa National Refrigeration Company
Al-Mobarak Hospital
AlSahafa Clinic
United Wires International Company
Gulfshield Manpower Services
International Clinicsfor Hair Transplant and Disorders
Panorama Dental Clinic
Rafic A. Kreidie Establishment
Sultanate of Oman
Ministry of Health
El Kerejji Corporation – KSA
Al Azar Hospital- KSA
Al Madar Medical Group Saudi Arabia
Ministry of Defense-Oman