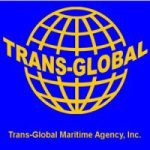 Trans-Global Maritime Agency, Inc.
POEA License:
POEA-063-SB-053116-R-MLC
License Validity:
June 20, 2024
About the Company
Trans Global Maritime is based on Yangon, Myanmar. The humble beginnings began in 2018 and grew up now. Trans Global Maritime Service Providing Worldwide Services, including Crew & Staff Manning, Ship Management, Supply Management and Vessel Agency.
We are the company that handles the formalities required for crew recruitment, visas, training courses, document certification, licensing, medical examinations and travel. We provide officers and rankings for container vessels, bulk carriers, cruise ships and passenger ships.
Trans Global Maritime ensures that high quality professional services are delivered to our ship owners, customers and charterers. It is our policy to ensure that ship owners and charterers receive personalized and dedicated services. Our purpose is to serve our clients with professionalism and integrity, building a long-standing relationship based on trust and commitment.