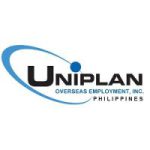 Uniplan Overseas Employment Inc.
License Validity:
January 22, 2024
About the Company
niplan Overseas Employment, Inc, a licensed recruitment company is one of the Philippines' most experienced and best providers of staffing services worldwide.
We are recognized by the Philippine Overseas Employment Administration (POEA) for our reputation in creating quality employment opportunities for highly qualified Filipinos.
Having lived by the highest level of integrity and social responsibility for over two decades, Uniplan Overseas Employment, Inc. has grown into an institution in the industry of labor and overseas employment. Our solid commitment to become the global leader in manpower sourcing and deployment has consistently placed us in DOLE/POEA's list of recruitment agencies in "Good Standing". Moreover, the numerous competence, performance and accomplishment citations that we have been awarded with are testaments to our dedication in meeting the needs of both our candidates and clients.