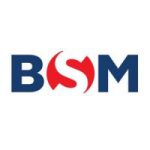 BSM Crew Service Centre Philippines, Inc.
License Validity:
September 23, 2024
About the Company
BSM Crew Service Centre Philippines, Inc. (BSM-CSC-PH), one of the top sea-based manning firms in the Philippines, was established on July 1, 2003, as a result of the union of Philippine Hanse and Hammonia Marine Services. Incorporated in 1979 were Hammonia Marine Services and the Philippine Hanse Ship Agency. Both businesses supplied professional, seasoned, and well-trained seamen to the SCHULTE GROUP OF COMPANIES as well as to the Group's various worldwide clientele.
By integrating the workforce from Philippine Hanse and Hammonia into BSM-CSC-PH, these companies were able to provide our Principals and their mariners a wealth of experience right away as well as committed service with a smile.
BSM Crew Service Centre Philippines, Inc. Unquestionably, BSM-CSC-PH has profited from the over 60 years of combined industry experience of its predecessors in the Philippines. We are continuing to build on the priceless experience we've already amassed, and we enjoy a strong reputation with governmental organizations, maritime unions, manning associations, training facilities, health care facilities, P&I correspondents, and other organizations. In recognition of our accomplishments, the company was inducted into the POEA Hall of Fame in 1989. Since then, we have continued to win POEA Awards of Excellence and Citations.
The year 2010 marked a turning point in the company's history as the President of the Philippines presented BSM with the first-ever "Presidential Award of Excellence" as one of nine recipients from the sea-based sector of the manning industry in recognition of our exemplary performance in promoting decent and quality overseas employment for Filipinos as well as for groundbreaking achievement, industry leadership, and entrepreneurialism.
Operating out of a cutting-edge office in Manila is BSM-CSC-PH. Our position makes it simple to get to government offices, training facilities, health care facilities, and the international airport. In order to expand the pool we draw from and to service an increasing number of boats, we repurpose former sailors from the office and hire both seasoned professionals and recent graduates.
The sharing of information is easy since all seafarer data is kept electronically in a database that is shared by our Ship Management Centers.
Visit official website: click here