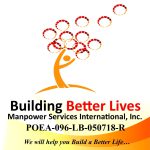 Building Better Lives Manpower Services International, Inc.
License Validity:
June 7, 2022
About the Company
Building Better Lives Manpower Services The Philippine Overseas Employment Agency of the Department of Labor and Employment of the Republic of the Philippines has granted Building Better Lives (BBL) a license to operate as a recruitment and placement firm.
Building Better Lives (BBL) is exclusively committed to locating and consistently supplying essential professional, technical, and non-skilled labor across the globe. The Headquarter is well situated in Makati City's Commercial Business District. BBL will be extending its activities for its global market in the Middle East, Europe, and Asia through a course of planned growth.
Building Better Lives Manpower Services follows the policy of working closely with its Client and directly sourcing the essential manpower to strengthen the relationship and build a portfolio of long-term commercial relationships.
A TEAM of a practicing lawyer, an engineer, and a business administration specialist, supported by highly professional staff, will make Building Better Lives (BBL) the newest company of its officers, continue to uphold its reputation in the international market. These officers have a combined cumulative experience of over 30 years in the recruitment and placement industry.
Building Better Lives (BBL) offers manpower to its clientele, who all subscribe to the same tenet of receiving the same services. We are currently filling the need for skilled and technical labor in the United States for construction firms with U.S. bases. Asia, the Middle East, and trusted regions.