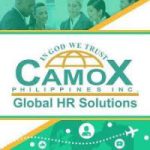 Camox Philippines, Inc.
License Validity:
June 5, 2023
About the Company
Camox Philippines has been the top land-based since 1993 provider of manpower recruiting services in the Philippines, persistently providing employment possibilities to diligent Filipino workers.
With more than 25 years of dedicated customer service, Camox Philippines, Inc. has built a solid reputation for reliability and credibility in the local executive search and international employment sectors. The company also possesses the necessary licenses and permits to carry out recruitment activities in accordance with the laws of all relevant countries.
Camox Philippines with the goal of dominating the nursing agency market in the Philippines by 2020, Camox, a traditional bellwether in the hospitality and mining projects industries, has aggressively expanded over the past four years.
Absolute Projects (India) Ltd., an EPC-contracting firm founded in February 2005, carries out turnkey power distribution projects and offers services with a focus on comprehensive business solutions.
With in-house manufacturing of sub-station equipment and electrical control panels linked to large power generating and distribution firms, APIL offers a complete solution in electrification from transmission lines to distribution up to 400KV.
NTPC, Power Grid, Tata Power, Honeywell Automation India Ltd., HPCL, BSES, UPL, NDPL, WBSEB, Reliance Energy, Ajmer Vidyut Vitran Nigam Ltd. - AVVNL, and Pashimanchal Vidyut Vitran Nigam Ltd. - PVVNL are just a few of the companies that APIL serves as clients.
PraxSoft offers the security you require to track down, oversee, and maintain your assets whenever and wherever you need it. The Active series increases safety, productivity, and profitability by utilizing a special combination of cutting-edge RFID and wireless sensor network technologies combined with the best, most economical communications. The System makes use of cutting-edge and tried-and-true technologies to gather, process, and send real-time data in order to provide useful information.
In both the commercial and government market bases, the Active series promotes productivity while streamlining processes and improving organizational visibility. Count on the Active series when you need the most precise information available to defend your investments.
Visit official website: click here