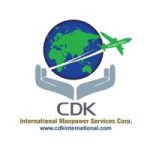 CDK International Manpower Services Corporation
License:
POEA-241-LB-110818-R
License Validity:
January 23, 2023
About the Company
CDK International Manpower Services its extensive recruitment database, process, and system, CDK has excelled for almost 30 years at providing its diverse global clientele with qualified, effective, and hard-working manpower that most closely matches our client's objectives and core values.
The Philippines' Department of Labor and Employment and Securities and Exchange Commission (SEC) have properly authorized CDK, which was founded in June 1990 by its Chairwoman Tita A. Morales and Chairman Glenn G. Morales.
"CDK" stands for Consistency, Dedication, and Knowledge, three of the many key characteristics that have been embedded in the organization's concepts and methods. It is an acronym for the founders' children, Chez, Daryl, and Kaye.
In addition to being dedicated to providing the Filipino workforce with safe overseas employment opportunities, CDK is also well-known internationally for supporting the growth of Filipino communities through its numerous "Bayanihan" projects and outreach initiatives throughout the nation, making it "The Right Choice" for a better future.
WHAT WE DO
CDK International Manpower Services goal is to meet the workforce demands of our overseas principals by supplying them with competent, effective, and diligent employees. Highly competent individuals and professionals who are experts in their fields can be found in our extensive database.
With CDK, job seekers can find a wide variety of employment opportunities. We offer them a wide range of career opportunities in a variety of industries, including healthcare, hospitality, engineering, skilled work, administration, accounting, and other industries at various levels.
WHAT WE VALUE
In addition to maintaining the welfare of our Filipino employees and ensuring their contribution to the preservation of their well-being and dignity, we are committed to offering our esteemed clients and partners high-quality international workforce services.
Visit official website: click here