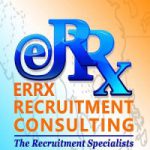 Errx Recruitment Consulting
License Validity:
August 13, 2022
About the Company
ERRX Recruitment Consulting is a recruitment consulting company with its main office in Manila, Philippines. We are a leader in the Middle East market for Recruitment Process Outsourcing and among the finest in our field! We think that, particularly for the Middle East market, there is still a significant business opportunity in recruitment and the processes that go along with it. By providing individualized and goal-oriented service, we will differentiate ourselves as a preferred Recruitment Specialists. Processes, specifically in the area of international recruiting, still need to be addressed. In order to increase the efficiency of all stakeholders, including international employers, government organizations, recruiting firms, and job seekers, this is intended to capture evolving best practices.
We are a recruiting consultancy company in the Philippines' capital city of Manila with the appropriate licenses. We are on Taft Avenue, the busiest street in the city. The Department of Foreign Affairs, as well as the City's historic structures and popular tourist attractions, are only a short drive away. The largest hotels and shopping centers are also nearby.
ERRX Recruitment Consulting are one of the few employment firms that don't charge applicants or employees any placement fees beyond what the Philippine Overseas and Employment Administration mandates and guarantees (POEA).
Our Value Proposition
YOU ARE DEFINITELY IN GOOD HANDS AS EXPERIENCED AND PROFESSIONALLY TRAINED HUMAN RESOURCE PRACTITIONERS MANAGE THE MANPOWER REQUIREMENT
By utilizing the combined professional expertise and academic credentials of our management team and staff, we can guarantee that YOU will receive a specialized recruitment service that is highly competent, effective, and time-bound.
We will develop a long-lasting professional connection with YOU in addition to doing business.
YOU will receive the most for your hiring money. Our hiring costs are more affordable and flexible! Why choose pricy recruitment partners when we can provide you with specialized recruitment services of unquestionably higher caliber?
With us, YOU will receive specialized recruitment assistance from one place only! Recruiting for other nationalities is possible through us thanks to our solid partnership with the leading human resource suppliers in Bangladesh, Malaysia, Indonesia, Sri Lanka, India, Nepal, and Pakistan!
Mission
To maximize the company's productivity and recruiting budget by offering our clients specialized and effective outsourced recruitment processes, the best available and interested talent pool, and shorter recruitment lead times;
To offer our Talents the best employment opportunities, industry-standard customer service, and honest and respectful treatment.
Vision
Being a top-tier supplier of specifically specialized international recruitment services in the Philippines.
Visit official website: click here