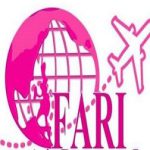 Finest Asia Resources
License Validity:
March 7, 2024
About the Company
Finest Asia Resources, Inc. (FARD is a duly registered Philippine corporation with the Securities & Exchange Commission (SEC), and is also duly licensed by Philippine Overseas Employment Administration (POEA) with License Number POEA-074-LB-031016-R as a Land based Manpower Service Provider. FARI is a private employment agency manned by a team of professionals.
With more than three (3) decades of engagement in the manpower service provider business, FARI has recruited and deployed thousands of Overseas Filipino Workers (OFW) to worldwide destinations like Kingdom of Saudi Arabia, United Arab Emirates, Kuwait, Qatar, Bahrain, Yemen, Brunei, Singapore, Hong Kong, China, Fiji Island, Japan, Malaysia, Equatorial Guinea, Kenya, Thailand, United Kingdom and United States of America.