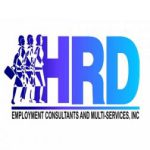 HRD Employment Consutants & Multi-Services, Inc.
License:
POEA-038-LB-061314-R
License Validity:
July 7, 2026
About the Company
HRD Employment Consultants & Multi-services, Inc. (HRD for brevity), is licensed to recruit and deploy Filipino contract workers to various work stations overseas, for gainful employment. HRD has been in the manpower placement industry for over 17 years now and our satisfied clientele includes contracting firms (Employers) in the Middle East, Guam, some parts of Africa and Asia, for various construction-engineering projects; healthcare firms in USA and in United Kingdom; hospitality industries and private institutions in the Middle East and Asia; Construction companies in Christchurch and Auckland, New Zealand. HRD Employment Consultants & Multi-services, Inc. has a cohesive team of employees, with complementary professional skills, cooperatively performing various manpower placement activities: from applicant-search (recruitment), screening and job-matching, applicant-management, pre-employment orientations, documentation and up to deployment. Our post-deployment service includes continuous communication with our clients and our deployed personnel, making them feel of our continuous presence as an overseas employment partner. HRD is devoted to the realization of our Mission/Vision of becoming a recognized professional and ethical organization, delighting clients with quality service, helping improve the lives of its workers & their families, and contributing to the growth of our country's economy.