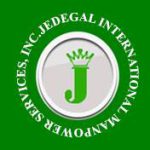 Jedegal International Manpower Services
About the Company
Jedegal International Manpower Services, Inc. is ranked and rated by the Philippine Overseas Employment Administration as one of the top ten percent (10%) of the over a thousand licensed agencies (POEA). We take pride in offering only the best overseas jobs for Overseas Filipino Workers and meeting the manpower needs of foreign principals.
Jedegal International Manpower Services, Inc. places highly skilled healthcare workers and other professionals who excel in their fields.
Our highly trained recruitment team conducts research, development studies, and team building seminars to strengthen relationships and dynamics among its members, ensuring the team's and the company's goals and undertakings' success.
Jedegal International Manpower Services, Inc. was founded on October 27, 1999, with only five incorporators/stockholders and a small team of dedicated employees.
Jedegal's sterling performance has been best exemplified by President Jessie L. Galapia and Vice President Dina P. Galapia's combined experience and knowledge of more than 30 years in the recruitment industry, which has steered the company into becoming one of the Philippines' Top Performing Agencies based on the volume of OFWs deployed overseas.
Jedegal has grown into a large organization with its main office in Quezon City after only twenty (20) years in business.
Jedegal has established itself as a reliable and trustworthy source of competent, highly skilled, and world-class professionals for a variety of industries, most notably healthcare, finance, service-oriented businesses, engineering, and information technology.
Jedegal International Manpower Services, Inc. was named one of the Top Agencies for deploying thousands of Overseas Filipino Workers (OFWs) to countries such as Singapore, Hong Kong, Taiwan, the United Arab Emirates, Qatar, Kuwait, and the United Kingdom.
Visit Agency official website: click here