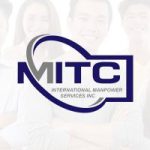 MITC International Manpower Services
License Validity:
December 3, 2023
About the Company
Our passion lies in the ability to match skilled and highly motivated talent to the requirements of our partners. Through our extensive database and network, we are able to screen, assess and dispatch to your requirements with reduced effort from your organization. MITC Manpower Services prides itself on not only our talent, but also the ability to continue servicing our partners through deepened relationships that have lasted years.
MITC International manpower Services, Inc. is composed of a team dedicated in taking our exceptional Filipino talent globally. The Philippines is known as the smiling face of Asia, and each of our candidates are not only trained to the highest standard in their field but also exhibit the warmth and hospitable trait Filipinos are known for. Whether you are dealing with direct MITC personnel or our candidates, you will be assured of the highest level of service while meeting your requirements.