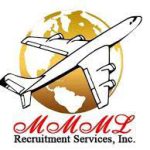 MMML Recruitment Services, Inc.
License Validity:
June 2, 2023
About the Company
MMML Recruitment Services, Inc., was organized in Malate, Manila on June 2, 1999 as a single proprietorship. Its primary purpose was aimed at helping fellow Filipinos to work abroad.
The initiation was organized through the efforts of four religious and career ladies who realized that services to countrymen were not just made by prayers but an actual physical labor has to be offered. They are Maddy, Minette, Miles and Lollie also known as "MMML".
They started the operations by deploying domestic helpers confined only to Kuwait and Bahrain. Due to their commitment to serve, MMML gained a prestigious name in the Recruitment Industries. In 2001, it was upgraded into a duly organized Corporation pursuant to the Corporation Code of the Philippines.
Fast pacing, it included in its deployment the countries of Kingdom of Saudi Arabia, Qatar, Kuwait, Bahrain, Oman, Brunei, USA, Russia and Korea. The numerous work categories it caters now comprise of Nurses, Engineers, Receptionists, Office Secretaries, Information Technology Specialists, Waiters and Waitresses, Caregivers, Cleaners, Drivers (heavy and light vehicles), Laborers, Domestic Helpers and many others.
To date, MMML Recruitment Services, Inc., is at par with the other duly recognized local recruitment agencies. It has already received several recognitions and citations from the POEA, OWWA, DOLE and other regulatory government agencies commending and recognizing its efforts and services rendered in helping and assisting the Philippine economy as whole.
Its remarkable experience in the field of recruitment such as, Marketing, Human Resource, Training, and Policing helps a lot in achieving the total employer-client satisfaction.
Its continuous efforts to serve fellow countrymen by providing job opportunities abroad and in assisting government vision-mission to improve local employment rate will perpetually inspire all the Members of the Board as well as its Officers and Staff to do best of services they can with the end in view, to fulfill a service commitment.
view their Linked in