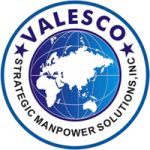 Valesco-SMS (Strategic Manpower Solution) Inc.
License Validity:
July 4, 2026
About the Company
VALESCO-SMS INC. is a duly authorized and licensed overseas recruitment agency in the Philippines with Philippine Overseas Employment Administration (POEA) license No. POEA-025-LB-052614-R, with proven track record in recruiting highly qualified Filipino workers from wide range of industries abroad. It was conceived and organized by highly professional individuals in March 7, 2006. Together with its professionally trained personnel intensifying the recruitment, placement and deployment of Overseas Filipino Workers (OFW).The organization is committed to bridge the labor market and overseas jobs guided by its mission to provide excellent services and total manpower solutions to all our clients.
VALESCO-SMS Inc. staff and officers were highly trained and well experienced in their respective jobs and correspondingly perform their function with diligence and dedication to deliver excellent result to comply with the requirements of its principals/employers.
For several years of genuine quality services, VALESCO-SMS Inc. has obtained excellent impression among its principals/employers in the Middle East, Gulf Region, Africa, Asia and the rest of the world. We are one of the many Placement Agencies to recognize the huge potential and advantage of giving our FILIPINO WORKERS a rewarding overseas employment.
Furthermore VALESCO-SMS INC. guarantees our principals/employers of providing/supplying qualified and competent general labors, skilled and highly skilled workers up to the highest ranking position in the ladder of management.