Nursing Aide
POEA Job Order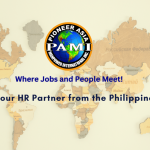 Pioneer Asia Manpower International, Inc.
Assist in Activities in Daily Living.
Take blood pressure, temperature, pulse, and respiration rate (Vital Sign).
Assist the Staff Nurse in providing nursing care such as dressing,
Prepare and serve meals to patients
Observe and report fluid intake and output.
Bathe, dress and perform basic grooming for residents.
Perform oral hygiene care, skin care and change of diaper for resident.
Responsible for data collection of residents' progress
Make beds and perform light housekeeping duties in residents' room/ward.
Follow proper procedures for lifting and transferring residents.
Perform Clinical documentation.
Compensation Packages
Client – Day Care for Seniors
Office working hours
Salary Offer SGD1,300 all-in [approx. Php53,300]
Client – Elderly Care Centre
Shifting schedules
Salary Offer SGD850 [approx. Php34,850]
Housing Allowance SGD500 [approx. Php20,500]
Free Meal
Client – Tertiary Hospital
Shifting schedule
Salary Offer SGD1,800 [approx. Php73,800]
Housing Allowance SGD400 [approx. Php16,400]
Qualifications/Requirements
Must possess a degree in Nursing
Valid PRC License
One year working experience in Hospital setting
Able to communicate in English and with pleasant personality
Focus and Organized
GOOD NEWS!
If you belong to BSN Batch 2022 & 2023 with or without PRC License, you may apply with Client – Elderly Care Centre
Pioneer Asia Manpower International –Your Journey is Our Story – www.pioneerasiamanpower.com