Soft Services Officer
Manpower Pooling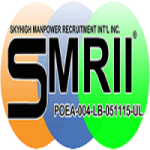 POEA Job Position: Soft Services Officer
Location: Qatar
QUALIFICATIONS:
Minimum BICSC requirement of License to Practice (LIP) and 5 additional units of competence.
At least 2 years experience as a cleaning supervisor.
Minimum 3 years experience working within Qatar.
Possess a management mentality towards engaging with staff, clients, end users, and contractors.
Full understanding of Computer Assisted Facilities Management system (CAFM) and all associated tasks.
Communicate effectively the directions of the Senior Manager and or HK Executive to the associated contractors when called upon.
PLEASE SEND/BRING THE FOLLOWING:
Updated and Comprehensive resume
School credentials (TOR/Diploma/Certificate of Completion)
Work and Training Certificates
Certificate of Employment
PEOS Certificate
Passport (valid for 3 years/proof of release)
Vaccination Certificate
NBI/ Police Clearance