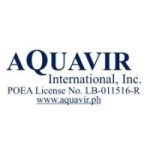 Aquavir International, Inc.
License Validity:
January 4, 2024
About the Company
AQUAVIR International Inc. which offers you a partnership for you manpower needs.
AQUAVIR International Inc. is holding a full license to engage in the recruitment and placement of workers for a fee under the regulating agency of the Philippine government, the Philippine Overseas Employment Administration (P.O.E.A.) with POEA License 004-LB-011516-R.
AQUAVIR International Inc. services include locating your needs for potential candidates, conduct screen interviews and arrange documentation requirements in the Philippine side for your business search for professionals, managers and executives and other skilled workers. We also partnered with Public Employment Service Office in different local governments to assist us in the recruitment of potential candidates nationwide.
We shall undertake in your behalf all the pertinent activities for the speedy dispatch of the selected candidates, including the coordination with the Philippine Overseas Employment Administration (POEA), the governing body tasked to regulate overseas recruitment agencies as well as the overseas contract workers.
We are also engaged in the Student Internship Abroad Program (SIAP) of the Commission on Higher Education (CHED) with full accreditation for the practicum training of Filipino bona fide students outside of the Philippines. Currently, we have partnership with Philippine Higher Education Institutions for internship program for the following courses: BS in Hotel and Restaurant Management, BS Tourism and Engineering.
We offer our services in the selection and hiring of highly qualified and skilled Filipino workers in various industry sectors: information and communications technology; hospitality and entertainment; retail, trade and merchandising; engineering and construction; and medical and allied health sector, including Student Internship Abroad Program. NO HOUSEHOLD WORKERS.
Our business has grown mostly by word of mouth from our returning clients and workers. With excellent client references and worker referrals we are solely sold by our customer service and drive to get the job done.
Aquavir International provides its clients with all services related to recruitment and selection, including the sourcing, screening/evaluation, shortlisting and facilitating client interviews.
These are some of the basic qualities of the Filipino worker, which make him/her very competitive:
Highly educated and literate workforce with a good command of the English language. This facilitates open communication between the employers, the applicants, their co-workers and the business clientele paving the way for smooth working and business relationships.
Filipinos have a proven track record of dedication to their profession and exhibit strong moral and ethical values.
Filipinos are ethnically of Malay stock, which has been enriched through the centuries by Chinese, Muslim/Arab, Spanish and American bloods. Their character is thus a unique blend of said cultures and traits put together, therefore his/her adaptability to foreign cultures is greatly increased.
Filipinos are responsible, dependable and hardworking due to the culturally-rooted trait of filial obligation (taking care of the sick family members, sending money to help pay for education of family members and miscellaneous family needs).
Due to difficult working conditions in the Philippines, Filipinos always demonstrate a high tolerance for pressure situations and are used to giving their best while working various shifts in remote locations under high-stress situations