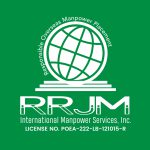 RRJM International Manpower Services, Inc.
License Validity:
January 25, 2024
About the Company
Office Location
RRJM International International Manpower Services, Inc. is built on strong values and exemplary service in the field of overseas manpower placement. Our line of services extend beyond client satisfaction. We believe that more than as a business enterprise, we exist to serve our brethren as well. Thus, we call ourselves as the mission house of Filipino workers who want to uplift their lives through better jobs, better opportunities abroad.
Our legal personality in the overseas manpower placement industry has been given by POEA (Philippine Overseas Employment Administration) on January 2002 and has been renewed and is valid until present date.
More than fifty (50) management team and staff to professionally and carefully handle your manpower needs. To better serve our customers and provide operational focus, we have structured our organization into Business Units. We also have two (2) branch offices all over the Philippines located in key cities to get the top caliber applicants that are suited for your manpower needs.
From year 2002 to the present we have been serving more than one hundred (100) highly reputable companies for their manpower needs. Trades vary from professional to skilled workers. We explore all modern and traditional strategies of recruitment just to get the right manpower for your company. We do constant motivation to our deployed workers to ensure that needs and wants are being met.
However, the number that we are most proud of is that for the past ten (10) years that RRJM Manpower had been in existence, we have deployed more than fifteen thousand (15,000) workers to various foreign employers. Simply put, RRJM Manpower was able to help at least fifteen thousand (15,000) families as well.